New Orleans is a city that loves a good time, and that means great music, great culture, and great food. While Cajun and Creole food might be the first types of cuisine that jump to your mind, the truth is that there are many other types of cuisine that are on their absolute best in the city nicknamed The Big Easy. Believe it or not, you can get some great kebabs in the city of New Orleans – and you're not limited to just one or two places!
When I spent some time visiting New Orleans, going on a search for the best tasting kebabs in town seemed like a great side project while doing all of the things you do when you visit the Big Easy and although I could probably go the rest of my life living on Cajun food…a few amazing kebabs in between jambalaya, crawfish etouffee, and a whole lot of red beans and rice is a good way to remind me that even when surrounded by Cajun food – there's always room for a great kebab!
Fortunately, it turns out there's no shortage of outstanding kebab choices when it comes to New Orleans.
The 7 top restaurants in New Orleans I recommend for their kebabs are:
Lebanon's Cafe
Schwarma on the Go
Shishkabob House
Tal's Hummus
Pyramids Cafe
Stella Maris Cafe & Grocery
Cleo's Mediterranean Cuisine
Yeah, that's nine amazing places I found for kebabs based on local recommendations while getting away from Cajun food. This is one of the advantage of being a digital nomad, it's that you get to spend weeks or even months at a location you like to see everything it has to offer before jumping to the next place.
So with a good list of what I'm confident are the best kebab places in New Orleans, let's go further and deep dive into the pros/cons, what I loved about each one, and what locals have to say about some of these amazing restaurants.
Kebabs By All Their Names…
Depending on the restaurant, food truck, or kebab shop you go to you might be looking at kebabs, kabobs, skewers, shawarma, or general labels like "Turkish Cuisine," "Persian Cuisine," or "Mediterranean Cuisine." However, the outside name doesn't really matter to me for this article: all that matters is that they serve kebabs, and tasty delicious ones at that.
Not only do you have no shortage of options when it comes to finding a fantastic kebab in the city of New Orleans, but the styles of kebabs can be very different from location to location, which is great as I'm a big fan of multiple styles of kebab. That means if there is one type or style that is particularly of interest to you or one of your favorites you will have an option to find that type of kebab in the city.
So even if the restaurant name doesn't seem to scream "Kebabs!" rest assured that each of these restaurants or shops not only offer kebabs, but offer some of the best ones in the city – and there are a LOT of options for kebabs in The Big Easy.
Lebanon's Cafe
Address: Lebanon Cafe, 1500 S Carrollton Ave (Jeannette), New Orleans, LA
Website: https://lebanonscafe.com/our-menu/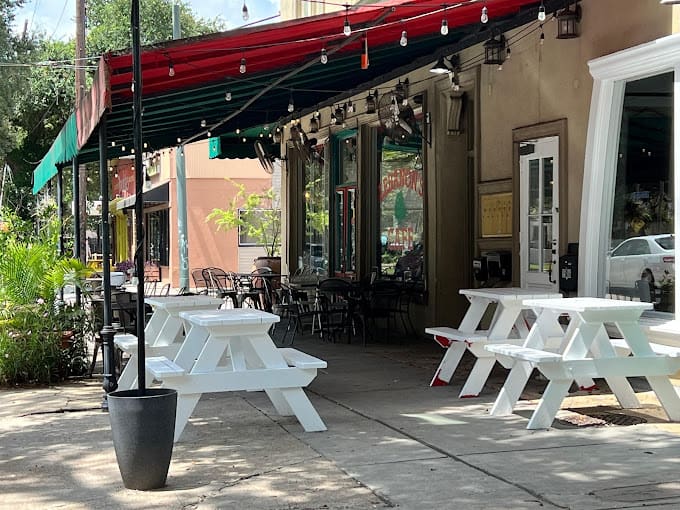 No one who knows New Orleans well is going to be surprised that Lebanon's Cafe made the list, and indeed it's right on the top.
Located on the corner of Carrolton Avenue and Oak Street, this cafe is famous and that fame is well-earned and well-deserved. They have been one of the best Mideastern food restaurants in New Orleans for at least 20 years, and they offer the full menu of dishes to try out and enjoy.
They brag about their homemade Tzatziki dip and Chef Special, both of which are great choices.
The menu has a very large variety of kabobs and shwarma dishes so you can look through these lists and decide what looks most appealing to you when you visit.
From my own experience I can recommend the Beef Shawarma which is just so, so good. The spice mixture is one of the best I've ever had from any place offering Shawarma or kebabs and it just straight out works.
This is consistently one of the highest rated restaurants in the city whether from visitors, locals, or food critics. If you are looking for kebabs they offers several including, but not limited to:
Chicken kabobs
Beef Shish Kabobs
Lula Kabobs
Lamb Shish Kabob
Chicken Shawarma
Gyros
Give them a visit and see what the big deal is for yourself. Trust me on this one: you're not going to regret that decision. Not after a full belly because of a astunningly good meal.
A lot of people I talked to especially loved the chicken kabob and the lula kabob, and it's really hard to disagree with those incredible choices.
Shawarma on the Go
Address: Shawarma on the Go, 3720 Magazine Street
Website: Shawarma on the Go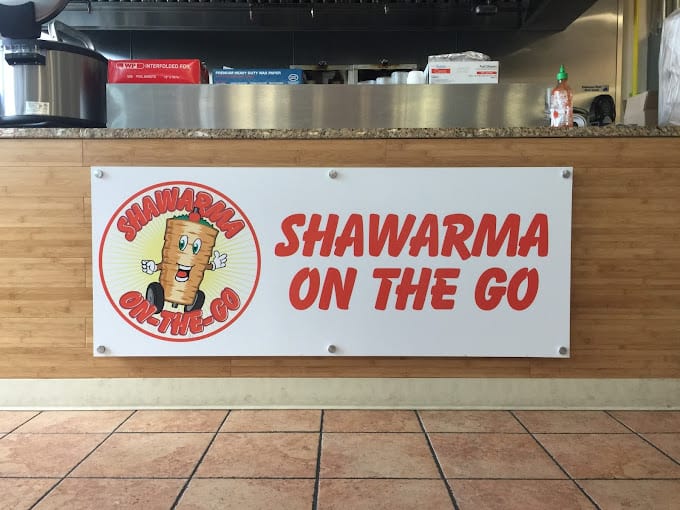 The full array of Middle Eastern menu dishes, Shawarma on the Go is Halal friendly, great for followers of Islam who want to be sure their food is prepared a certain way, and offers a surprising variety of dishes for a place its size.
Not every place understands these religious food concerns, and this makes Shawarma on the Go an outstanding option that can safely meet these needs while providing excellent food.
Aside from the many delicious shawarma options, which makes sense based on the name, the Iraqi Lula kebabs are great and available in chicken, beef, or lamb.
While it might not look like much from the outside, this is one of those tucked away gems that is incredibly popular with many locals, and the stunningly high ratings from happy customers on Google goes to show just how high the quality of the food is on a consistent basis.
This is one Middle Eastern food spot that is worth checking out and whether you go with kebab, shawarma, or both, you're going to find a lot of delicious food that you're sure to love when those cravings hit.
Shishkabob House
Address: Shishkabob House, 3804 Williams Blvd, Kenner, LA 70065
Website: Shishkabob House Facebook Page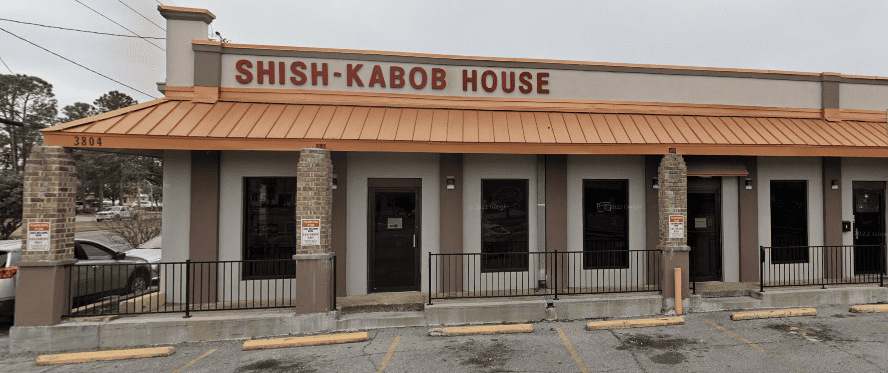 You want shishkabob on skewers? I can show you where to get amazing skewer shishkabobs!
One of the wonderful secret spots in New Orleans, the Shiskabob House is a family owned restaurant in Kenner, which is near the outskirts of New Orleans, as its a suburb that is well known for its international eateries (especially around Williams, which is where it is located).
Shishkabob House is all about the delicious food from long held family recipes. Don't expect a lot of decor or ambiance here…because you won't get it.
But when you want stunningly good kebabs at low prices that are actually budget friendly versus just "good for a tourist place," then you will want to be sure to give Shishkabob House a serious look.
Their kebabs are stunningly good, as is their chicken shawarma if you want a change of pace from the pure kebab diet, and no one would blame you for taking one of both – especially at those reasonable prices! The fact you're supporting a small family owned business is just more spice on the kebab meat!
Tal's Hummus
Address: Tal's Hummus, 4800 Magazine Street
Website: Tal's Hummus Website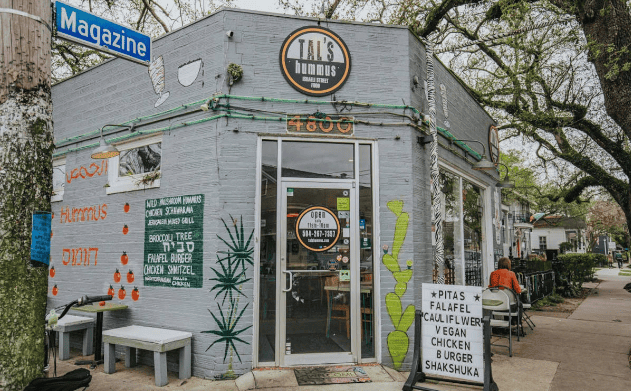 While the name says hummus and Tal's Hummus is 100% more well-known for their hummus and Israeli inspired dishes, you would make a mistake to assume that was all they could do! Offering both traditional Israeli dishes and new dishes or combinations that are inspired by traditional dishes but have their own spin to them, this restaurant is all about the Israeli and Middle Eastern inspired street food and if you want a great kebab, you have multiple options.
Tal's Hummus offers the following kebabs to New Orleans visitors:
Doner Kebabs
Pita Beef Kabob
Hummus Kebob
Single Beef Kebab
Mixed Grill Platter (includes a huge helping of grilled beef kabob among other foods)
They offer even more than this, but this just goes to show how many options there are at Tal's Hummus for the New Orleans kebab lover. Even if you're not sure you're in the mood specifically for a kebab, the sheer amount of delicious food gives you options that will keep you happy through the entire day whether winding down early or wanting that good meal before a late night of bar hopping.
The kebabs are all delicious but if you want a big meal that really fills you up, go with the Mixed Grill Platter. You won't regret it.
They are also open late to 10 p.m. so you can grab a late night snack before heading home or before kicking off for a late night enjoying what the nightlife of New Orleans has to offer.
Pyramids Café
Address: 3149 Calhoun St.
Website: Pyramids Cafe Website
Phone: 504-861-9602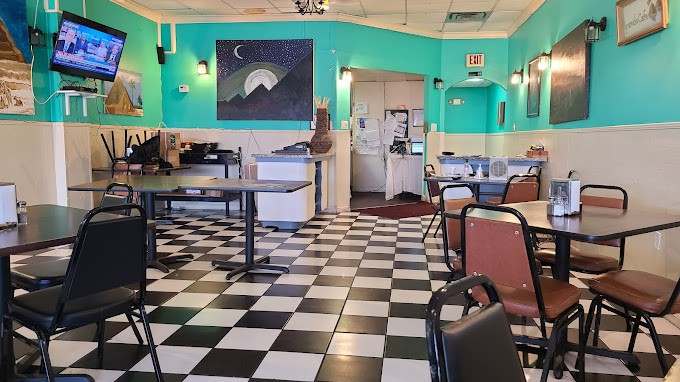 No local to New Orleans is going to be a stranger to Pyramids Cafe. This locally famous cafe has been named by many publications as the best Mediterranean restaurant in the city, and is always in the running to win that award again every year when a dining magazine or local paper runs another competition to compare the top Mediterranean restaurants in town.
The Pyramids Cafe is over 20 years old and is one of the hot spots to go to when you feel like Mediterranean or kebabs while around this New Orleans neighborhood. Multiple local culinary magazines have named Pyramids as the best Mediterranean Restaurant in town over multiple years, and their reputation has always been strong flavor and crazy fresh food.
For kabab lovers you have an amazing array of choices as the online menu lists chicken kabab, shish kabab, Kafta Kabab, combination kabab, and then kebab adjacent dishes like Chicken Tecka, or Shawarma.
In other words, you have plenty of options when it comes to grabbing a delicious meal from Pyramids Cafe whether you are feeling kebabs, kebab-adjacent, or just hankering delicious fresh Mediterranean food in general. Don't forget to check out the truly impressive array of great sandwiches (I'm personally a huge fan of the Beef Shawarma Sandwich and the Chicken Kabab Sandwich) when you need a quick lunch.
Give them a try – you definitely will not regret it!
Stella Maris Café & Grocery
Address: 7555 W Judge Perez Dr, Arabi, LA 70032
Website: Order online here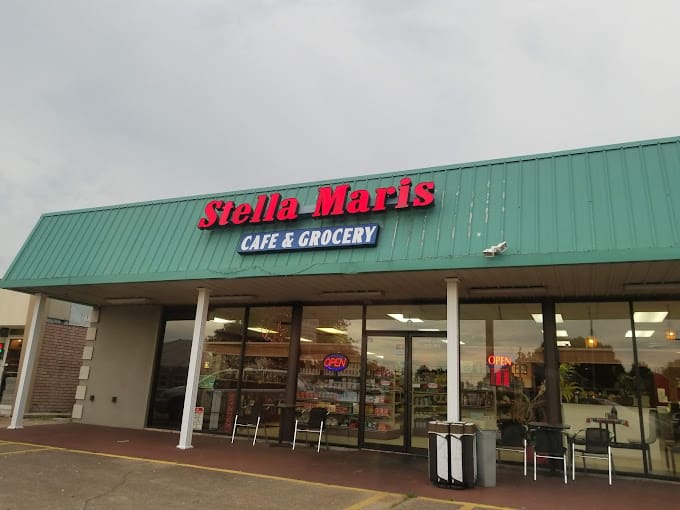 Whenever I find a specialized grocery store with an attached restaurant or café I'm hyped, because some of the best places I've ever eaten were set up like that. When you have the parents running a store with food from their country and grandma in the back cooking – that's almost always an amazing combo!
Stella Maris Café & Grocery keeps up that tradition. This market is loaded with many popular but hard to find Middle Eastern spices, food, and ingredients.
That grocery is a go-to for local Middle Eastern families and the attached café offers delicious dishes and plenty of kebab options including Shish Kebabs, Chicken Kebabs, Chicken Shish Tawook, Lula Kebab, and Chicken Tikka plates as well as Shish Kabab, Lulu Kabab, and Chicken Kabab sandwiches.
That's a lot of options for the New Orleans kebab lover, and Stella Maris has a great reputation for very friendly service, large portions, and for those days you don't feel like kebabs Stella Maris is also renowned for its Falafels, Tzatziki, and Gyros.
There's a reason they are so popular with locals and if you happen to be visiting New Orleans, or anywhere for that matter, a good rule of thumb is to go where the locals go.
That's how you find the best stuff whether food, entertainment, or special type of dive bar. Stella Maris is one of those special places that anyone loving Middle Eastern cuisine or kebabs will want to stop by to visit!
Cleo's Mediterranean Cuisine
Address: 940 Canal St, New Orleans, LA 70112
Website: https://cleos-mediterranean-cuisine.business.site/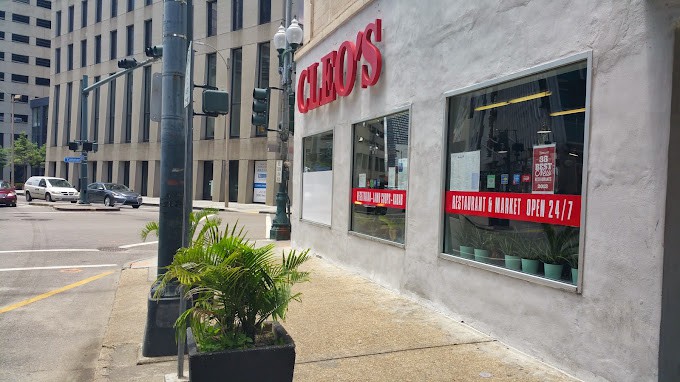 When you're in a city like New Orleans, the good news is that there's a place open whenever the need for some good kebabs hits, even if that is at 2 or 3 a.m. Cleo's is open 24 hours a day, 7 days a week, and provides delicious Mediterranean food along with pickup or delivery.
The original Cleo's location at Canal Street has been there for a very long time and is a favorite with many locals, second shifters, and food industry folks who tend to get out when everywhere else is closed.
They offer many dishes, but when it comes specifically to kebabs you're looking at Beef Kegbab Tray, Beef Lula Kofta Tray, Chicken Kebab Tray, Chicken Lula Kofta Tray, and the Lamb Kebab Tray.
They also offer various skewers of fish, shrimp, and local seafood that are marinated, skewered, cooked, and then put on a try similar to the style of the other kebab trays.
They also now have multiple locations including newer restaurants at 117 Decatur Street and the French Quarter. The hours at these locations vary a bit more but they are still renowned for their excellent menu and food quality.
What About Kebab in New Orleans?
Ah, yeah this is a sad one. Kebab, sometimes called Kebab Nola, was a great spot to stop in and grab a delicious kebab when the mood hit. The food was great and inexpensive, but they didn't survive and decided to call it quits in May of 2022, with their final close down taking place a few months later.
You can see the messages on their old Facebook page and while it does stink that Kebab NOLA is no longer an option, if there is any bright side it's the fact that there still are so many choices for customers who are hungry to get that kebab fix.
This won't be the last time a good or even great kebab place shuts down…but there will always be more. Especially in a city like New Orleans where the demand is so high.
So Where Should You Go For Your New Orleans Kebobs?
Truth is there isn't necessarily a right or wrong answer. Depending on what you're in the mood for and where you are in the city, any of the restaurants on this list could be a great option to get the kebab that you crave.
Whatever your taste or preference, if you are a fan of kebabs then you have plenty of choices in New Orleans. I found fantastic kebabs featuring lamb, beef, and chicken, not to mention a wide variety of styles in how the kebabs were prepared and served, making this a delightful side project while working out of New Orleans for several weeks.
This also brings up one of the best lessons I have ever learned from travel: while it's great to enjoy the food that the region or area is famous for, if there's a day you just have a certain itch or want that special meal whether it's plain meal at McDonald's to reset the palate or a kebab – don't feel bad about it. Enjoy your meal just as you would enjoy the place you're visiting and own your day.
So when that inevitable kebab craving pops up in New Orleans, just save the next Cajun meal for another day and find the nearest option on this list to you today!
Other Kebab Articles You May Love